Iroquois Veterans Cenotaph Fundraising Project
In a community led effort endorsed by the Municipality of South Dundas and Royal Canadian Legion Branch 370 (Iroquois), a group of volunteers have come together to relocate, refurbish, and enhance our village's cenotaph that pays tribute to our local veterans.
We are offering individuals, families and businesses a chance to support the project by purchasing an engraved 14 inch by 7 inch walkway stone at the new site in front of the Iroquois Civic Centre.
Funds raised from this initiative will support the project and income tax receipts are provided.
Join our volunteer efforts to invest in a once-in-a-generation enhancement and refurbishment of Iroquois' cenotaph acknowledging our local veterans who served for our freedoms.
After a successful project restoring the Matilda Hall Cenotaph in 2018, volunteers are continuing their work to restore and enhance local South Dundas cenotaphs with this Iroquois cenotaph project.
If fundraising is successful, construction is scheduled to begin in mid-2022, with completion before Remembrance Day services in November.
The estimated cost of refurbishing the cenotaph, bronze plaques, and constructing the new site in front of the Iroquois Civic Centre is budgeted for $120,000. New lighting, landscaping, and new flag poles are included as well.
Your support is vital to ensure this tribute to our veterans can move forward. 100% of the proceeds from the purchase of walkway stones go towards this project. Tax receipts are provided. Business and other donation opportunities are available as well (please contact Jim Locke at 613-652-2233).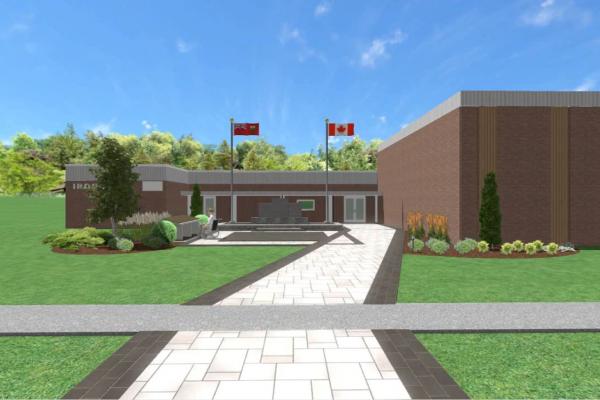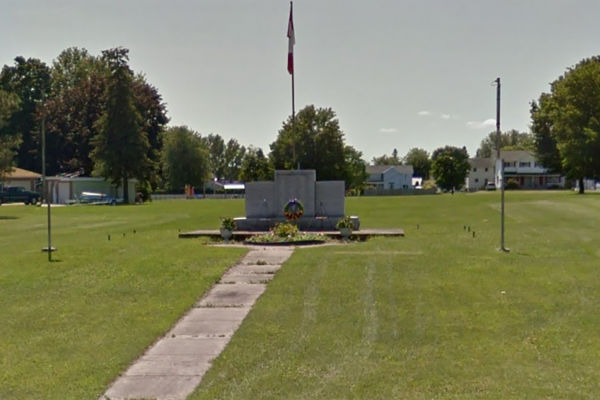 Purchase a Walkway Stone
14″ x 7″ (maximum 16 letters/spaces per line)
$150 (includes a $125 charitable tax receipt)
Drop a completed Iroquois Cenotaph Stone Purchase Form & payment to:
Mustard's Variety (Iroquois Plaza)
Brinston General Store (4141 Brinston Rd)
South Dundas Municipal Centre (34 Ottawa St, Morrisburg)
Paper forms are available at each location above if you do not have a printer.
Questions? Contact Jim Locke at (613) 652-2233.