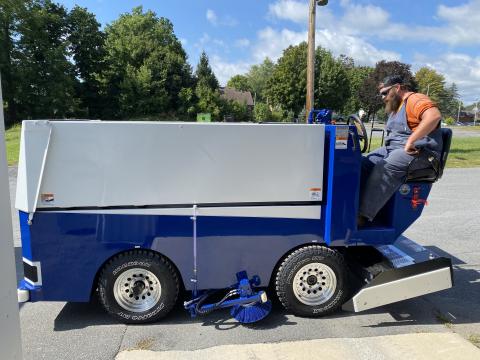 The Municipality of South Dundas invites proposals from businesses who are interested in a unique advertising opportunity - advertising on the new electric Zamboni at the Morrisburg Arena. The Morrisburg Arena is a significant hub for recreational activities in South Dundas and the Zamboni is the focal point of the building during regular ice maintenance.
The Morrisburg arena can see thousands of visitors on a typical weekend during the ice season, which makes it a great location to advertise your business and brand.
Applicants have until 12:00pm on October 2nd, 2023, to submit an application. Applications shall be submitted to Emily Palmer-Guindon. Please note that this RFP is not available through Bids & Tenders. See RFP Documentation and Application Form below.
By e-mail: epalmerguindon@southdundas.com. By mail: South Dundas Municipal Centre, 34 Ottawa St., PO Box 740, Morrisburg ON, K0C 1X0. Drop off in person: South Dundas Municipal Center, 34 Ottawa St., Morrisburg ON. Office hours are Monday - Friday from 8:30am - 4:30pm. 
PRF23-16 RFP - Zamboni Advertisement
ADDENDUM 01 - PRF23-16 Zamboni Advertisement RFP