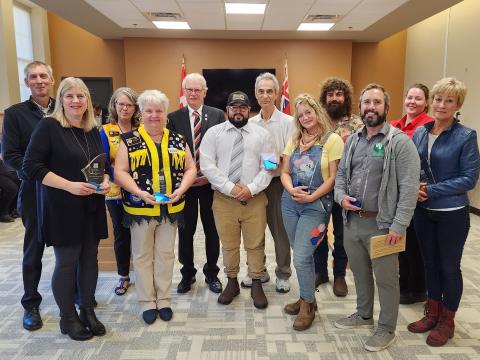 SOUTH DUNDAS — The Municipality of South Dundas is celebrating and shining a spotlight on the local business community by celebrating the Fourth Annual Awards of Excellence.
The Awards were presented in person in South Dundas Council Chambers with the ceremony live streamed virtually via YouTube on September 26, 2022. Winners were presented their Awards by South Dundas Staff, Council and Economic Development Advisory Committee members.
"This Award Ceremony celebrates the recognition that so many businesses and individuals in our community deserve." said Rob Hunter, Economic Development Officer.
The 2022 recipients are:
Business of the Year Award: Laura's Valu Mart
Community Builder Award: Candace Latulippe
Community Builder Award: Iroquois-Matilda Lions Club
Tourism Award: Sherry's
Young Professional Award: Curtis Whitteker
Agriculture Leadership Award: Dentz Orchards and Berry Farm
Green Award: Rutabaga Ranch
New Business Award: Karra's Burgers and Fries
"I would like to congratulate each of the award recipients and all of the businesses who were nominated. We've got a great local business community and these awards are one of the ways that we can show our appreciation for all the work they do in South Dundas." said Mayor Steven Byvelds.