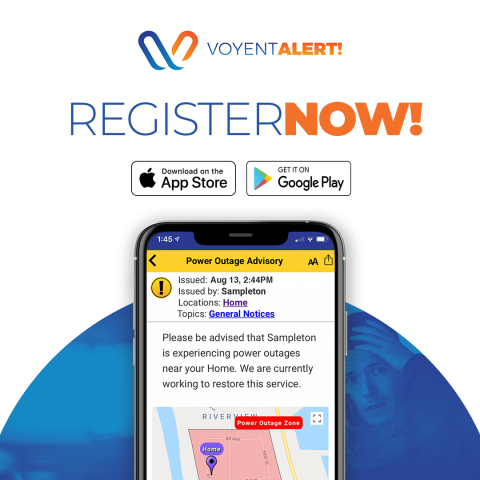 The Municipality of South Dundas is excited to announce a new communication tool to aide our residents. Voyent Alert! is a multi-purpose service provided by the Municipality that will keep residents informed of critical events like floods or boil water advisories as well as day-to-day/ non-emergency notices such as road closures, planned maintenance, watermain breaks and more.
Residents can sign up in under one minute and it is completely free and anonymous. There are four convenient options for receiving alerts. Download the app on an Apple or Android device, or sign up to receive notifications via text message, email, or voice call. Register here.
"We're very excited to be bringing this new tool to our roster. The accessibility of the service means we can reach each of our residents whether they have a cell phone, computer, or a landline. This is another step in the Municipality's work to provide inclusive and timely communication to the people of South Dundas," said Mayor Steven Byvelds.
Residents will be able to add multiple locations to their profiles for their home, work or family member's addresses and will only receive notifications that affect those locations. With these targeted alerts, users won't have to worry about sifting through information that doesn't pertain to them.
"This tool will become one of the most reliable sources of information for the Municipality. It also means that our residents won't need to go in search of important notifications, they will get the information sent right to their chosen device," said Communications Coordinator Kalynn Sawyer Helmer. "We strongly encourage everyone to sign up."
To sign up, visit the South Dundas website. For those who may not be comfortable signing up on their own, they can call the Municipality to have it done at the office or over the phone.