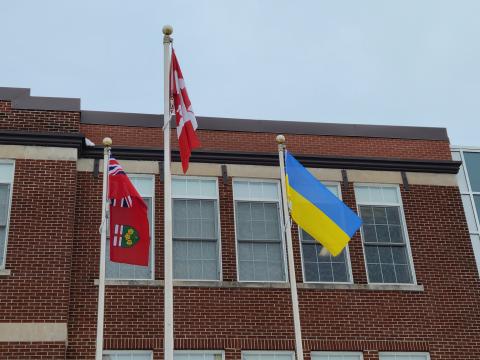 Today South Dundas solidifies our support for the people of Ukraine through the flying of the Ukrainian flag at the Municipal office. The flag is a symbol of our solidarity with Ukraine to stand against the heinous war crimes committed by President Putin and the Kremlin. The unprovoked attacks in Ukraine are devastating, with ramifications that will last for generations.
We cannot begin to understand the depth of fear, sorrow and desperation the people of Ukraine are experiencing. We are thankful that our own country continues to condemn Putin's actions and support Ukraine's sovereignty and territorial integrity.
As we watch and read of the tragedies abroad, we will keep Ukraine in our hearts and thoughts and provide supports where we can. When you see the flag flying here in our own community, may it act as a reminder of the courage and resolve shown by Ukrainians to fight for their democracy, an ideology we cherish and share.
Steven Byvelds, Mayor
Municipality of South Dundas