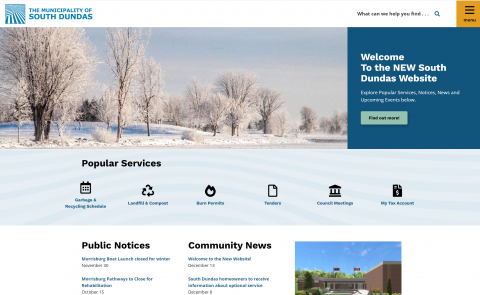 On December 13, 2021, South Dundas launched an all-new website to provide better online services to residents and visitors. The Municipality worked with the United Counties of Stormont, Dundas and Glengarry and UpanUp Studios Inc. to complete the six-month project.
The partnership with the Counties provided web templates that allowed South Dundas to complete the website for less than half the industry standard cost. COVID-19 recovery funding paid for the project eliminating any financial burden on taxpayers.
The new site uses industry standards to make navigation easy. Users should be able to find relevant services, programs, tourism information and business resources and much more with just the click of a button. To navigate, use the menu in the top right corner of the webpage.
"We do realize that an all-new site will still come with challenges as our residents re-learn how to find their most-used pages," said Communications Coordinator, Kalynn Sawyer Helmer. "But our web development committee, that was made up of staff and our Deputy Mayor, worked hard to make a site that will be more user friendly and have longevity. And if anyone needs some help as they get used to the new site, please give us a call."
"We're very excited to launch this modern website that we hope will better serve our residents," said Mayor Steven Byvelds. "This project is one more way we are working to improve our community and provide the best service possible to the people of South Dundas."
What to look for
Some key features include the community events calendar where residents can add their events, and six homepage hot buttons for the most popular services. If you're not comfortable adding your event yourself, contact the Communications Coordinator for help!
Another great new feature is a collection of photographs used at the top of each page. These images showcase the beauty of South Dundas and were taken by local photographer, Phillip Blancher. 
We hope you enjoy!