The Dundas County Archives has conducted research in honour of Black History Month. It is important to look at the Big Picture within the context of the time.  Under the Imperial Statute of 1790 settlers were permitted to bring their enslaved servants to Upper Canada.  Since this region was settled by United Empire Loyalist refugees from the American Revolution, they were within their rights to bring with them any property, and under the law that included those who were enslaved by them. Unfortunately there are few records about any of these individuals in this immediate area. 
    According to Judge Pringle in his book Lunenburgh or the Old Eastern District, (1890), we do know of one family of enslaved under the name of Baker, who settled in Cornwall along with the Loyalists.  John Baker was one of the last loyalist slaves living in Upper Canada when he died in 1871 in Cornwall. His great grandfather Cato Prime, had been born in Guinea Africa.  He was owned by John Low of Newark New Jersey.  Cato's daughter Levine, gave birth to Dorine, who was the mother of John Baker.  Their owner, through marriage, became Captain James Gray of the 42nd Regiment, the Black Watch.  It was through this family that Dorine came to Upper Canada.  She married either a German or Dutch man, depending on the source, and had a large family.  John was the second son. Although the father was a free white man, under law the child of a slave maintained the legal status of the mother, so her children were also enslaved. In 1804 the children were all freed due to manumission papers in the Will of their owner, Robert Gray.  John was also left 200 acres of land near Cornwall.
    John Baker, once free, enlisted with the New Brunswick Fencibles and served in the 104rth Regiment in the War of 1812.  He also served with the British Army in Europe during the Napoleonic War. Afterwards, he returned to Cornwall and became an active member of his community.
    Captain Justus Sherwood of Prescott, another loyalist, brought with him his slave Caesar, (also known as Scipio) with him when he settled in the area.  Very little is known of his story but apparently he was freed and married a black woman and settled in Brockville.
    Daniel Jones, of Brockville, had a slave by the name of Elizabeth.  One record exists pertaining to the sale of Elizabeth on August 30, 1788.  Jones had sold her to Doctor Solomon Jones of Augusta for 25 pounds Halifax currency.     In Kingston, the pioneer loyalist Anglican Minister, the reverend John Stuart, mentioned his slaves in his Will. He left his wife his slave Louisa and her children.  Another member of the clergy, Reverend John Bethune of Williamstown Presbyterian Church in Glengarry had slaves.
    Lieutenant Governor Simcoe created the Act to Limit Slavery in Upper Canada in 1793.  This was the first legislation in the British Colonies to restrict the slave trade.  While there was strong opposition to the bill.  It legislated that no more slaves could be brought into the Province.  Those who were born enslaved prior to that date would gain freedom at age 25. In 1819 The Attorney General, John Beverly Robinson declared that enslaved individuals were declared free if they resided in Upper Canada.  In August 1833, the Imperial Parliament freed all slaves in the British Dominions.  This was almost 30 years before slavery was abolished in America.  With the passing of the Fugitive Slave Act in USA in 1851, any slave who escapes can be retrieved by their owners or an agent and returned to slavery.  This created the incentive for enslaved runaways to travel to Canadian soil.  The region of Southwest Ontario became the hotbed of the abolition movement and home for many of these fugitive slaves. There is little information about blacks escaping to the St Lawrence River region however, due to the fact that this was an underground movement. 
  Census records of 1851 and 1861 do name very few black individuals in Dundas County, but we have no idea if they are fugitive slaves of free. London Derry resided in Williamsburg in 1851, he was also known as London D Lunn in 1861. But spelling was very inconsistent in the census records.   I could not find any background information on this man or his family.
    Isaac Johnson (1844 – 1905) was born in slavery in Kentucky.  He joined the Union Army during the Civil War and gained his freedom through the Emancipation Proclamation which freed all slaves in America.  While he did write an autobiography, he never really states how he ended up in Dundas County.  After the Civil War he wandered for a number of years, as a labourer, and ended up in Morrisburg and then Winchester around 1870.  He served as a contractor and stone mason.  He was employed in the construction of a number of buildings, including the Winchester United Church, and the St James Anglican church in Morrisburg.  In December 5, 1905, he married Theodosia Allen of Morrisburg. A notice of this marriage appears in the local newspaper.  Together, they had six children. In those days the border was pretty fluid, and he was engaged in a number of other projects in Ogdensburg and Waddington, New York.  He wrote Slavery Days in Old Kentucky as a means to provide income to his family when he was injured on a job.  Isaac died on December 5, 1905.
   The records pertaining to blacks in Dundas County are very sparse.  Records of the United Empire Loyalists could provide more information as to their property, but that is a challenge to decipher.  As such, we know very little of those who lived in this region or their stories.   Upper Canada Village is hosting a special exhibit in the coming season on the history of Blacks in the region.  I look forward to seeing what records they have been able to find. In the meantime if you have any knowledge about any Black history in Dundas County I would love to hear from you.
Susan Peters
Dundas County Archives
dundascountyarchives@gmail.com
Image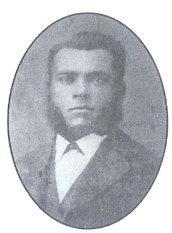 Image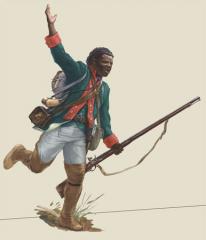 Isaac Johnson                War of 1812 Coloured Troops